Wreath Sales 2020
Wreath Online Catalog https://www.evergreenindustries.com/catalog/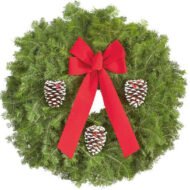 WREATH SALES DATES AND DETAILS
Dates to know
Wreath Sale Starts: September 1st
CAN NOT SELL WREATH Due Fall Product Program  during September 25-October 18
First order due: October 28th, by 7PM 
Delivery/pickup at Heidi's Home: November 21 by 2PM
Second orders due: November 20, by 7 PM  
Delivery/pickup at Heidi: December 4 (by 7PM 
 Final payment due: Friday, December 7th
Collect money at time of sales.  Checks should be made out to your troop.  Deposit money and write a single troop check to the service unit (B9M Service Unit or Bloomington 9 Mile Service Unit) when you place your order with the service unit (Heidi).
Prices are not on the order form, get prices from the price list  NOTE: PROCEEDS TO TROOPS will be a little less, due to donation to Family Giving Program.   Use this Updated wreath prices list for prices and write them on the order form.
Click here to go to the Order Form page to submit the troop order to the service unit.